As for the claimed "major" water vapor warming effect:
(A) Unlike CO2, the water vapor content of the atmosphere is always fluctuating from saturation down
to the driest desert conditions. This is the effect of precipitation and storms. The warming effects are
variable and highly localized, but not global.
(B) Increasing humidity leading to saturation creates more clouds, which both reflect light back into space,
as well as shield the planet surface from direct sunlight (which in turn reduces radiant warming effect.)
(C) Extremely cold temperatures allow only minute amounts of atmospheric water-holding capacity, due to:
1) Low water vapor pressure at low temperatures
2) Water vapor hydrogen-bonding forces exceeding the inherent momentum of water vapor gas collisions;
hence low atmospheric "carrying capacity" for water vapor at low temperatures
Given (C) why then is the most warming taking effect at the polar regions? There is not very much moisture
there at all. Yet in the tropics, with the highest average humidity levels, why little or no warming effect?
Perhaps mitigated by clouds? Increased plant growth? Considering plant growth, photosynthesis is one of
the most
endothermic
reactions (actually it is a series of reactions) known to man:
Photosynthesis Gº= + 479.1 kJ/ mol [for 1/6(glucose) CH
2
O]
Why is photosynthesis interesting? File Format: PDF
http://www.if.uj.edu.pl/Foton/92-specia ... kburda.pdf
"The amount of energy trapped by photosynthesis is immense, approximately 100 terawatts:[3]
which is about six times larger than the power consumption of human civilization.[4]"
http://en.wikipedia.org/wiki/Photosynthesis
The question is: Could it be that good ol' photosynthesis is the reason that warming is "held
in check" at the earth's torrid zone? And seasonally in temperate zones? But what about the polar zones?
NO PHOTOSYNTHESIS taking place there!
Hence greatest warming effect there.
Same for mountain
tops with their
melting glaciers as evidence.
In conclusion:
High latitudes and high altitudes: CO2 is there; H2O vapor is not; black soot is there; plants are not.
We should thus call this polar warming rather than global warming?
Map of the world's forests and grasslands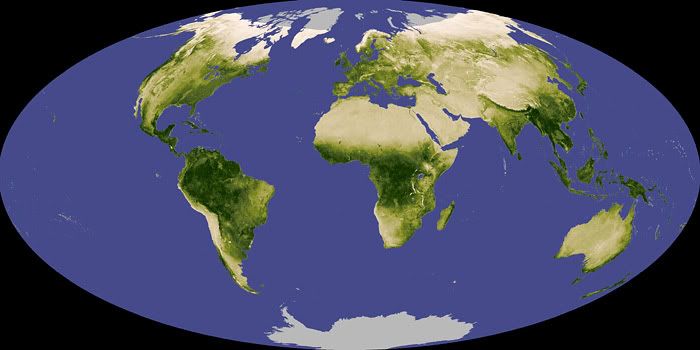 Image source: NASA