One Night. One Spark. A lifetime of regrets.
Posted:
Wed Jul 21, 2010 4:52 pm
This story is 2½ years old, but bears mentioning again, in this summer-in-the-city burning season:
One Night. One Spark. A lifetime of regrets.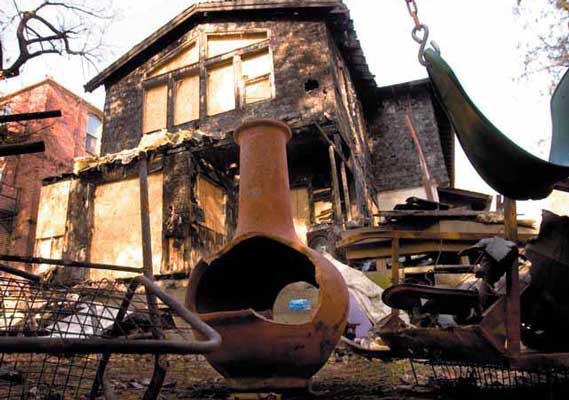 By Jeanne Mooney
The Virginian-Pilot
© January 9, 2008
They kept the potbellied firebox on their wood deck with bricks propped underneath it for safety.
And they used a cover to keep out moisture and prevent the clay from cracking.
In the six or seven years that the couple had owned the chiminea, they practiced care. Each time, the wood dwindled to ash without incident.
Each time but one.
Just once an ember popped from the dying coals and found a fuel. Authorities said it was the cedar shingles on the home's exterior. The flames fed on propane gas at the deck grill and shot up the back of the three-story Graydon Avenue home.
Standing amid charred belongings, the couple recently described their ordeal. They spoke so others might learn from their experience. Their message comes at a time when the incidence and severity of home fires increase.
Around 3:30 a.m. Nov. 5, some 9-1/2 hours after toasting marshmallows at the chiminea, the family woke to the sounds of shattering glass and a commotion outside. Flames were destroying windows. A neighbor was hollering, Are you out? Are you OK?
The four fled to safety. But Stiles' and Mulholland's daily routine soon became a consuming salvage and recovery project.
They've kept their two young children away from the sight and stink of the job.
Chiminea and grill fires shouldn't be lighted on wood decks, Stiles tells friends. Some have told him that they do that all the time.
The fire has been a surreal interruption in the couple's
otherwise ordinary life. They had working smoke alarms. They recently had reviewed their insurance coverage.
Their children, ages 2 and 5, had practiced safety drills at school.
"This is something that happens to someone else, that you read about in the paper," Mulholland said. "We're careful people."
"You just sort of wish you could take it back to the day before," Stiles said.
No. 1 winter cause: heating
Home fires are among the most severe in the winter, the U.S. Fire Administration said in a 2002 report.
From Nov. 1 to Feb. 29 fires cause greater dollar loss per incident in homes and more injuries and deaths per 1,000 events than on an average day, the administration said.
Heating sources cause the most home fires in the winter. Fixed, central and portable heating systems, water heaters and indoor fireplaces ignite those blazes.
Cooking fires follow as the second-leading cause of winter home fires. But they lead the list year round.
Suspicious fires, electrical fires and fires caused by embers, open flames or torches follow, respectively, as leading causes for the winter months.
Many fires, especially those in the kitchen, begin when no one is paying attention, local fire authorities said.
"People are just so busy," said Capt. Steve Johnson, a spokesman for the Chesapeake Fire Department. "They're trying to multitask. They're too distracted."
Watch what you heat, Johnson said.
And never leave a fire unattended, said Jack Goldhorn, Norfolk Fire Department's spokesman.
He read aloud a department report about the Graydon Avenue blaze. It started when an open flame ignited an exterior wall covering. The heat source was too close to combustibles. The heat source was unsupervised.
Extinguish fires before leaving them, Goldhorn said. Use sand, one Web site suggested. Consider moving the ashes to a fireproof container and dousing them with water, he said.
"You wouldn't go to bed leaving an oven on."
The couple had sat by the chiminea until they thought it was "pretty much out," Mulholland said. They separately checked their chiminea from a window before bed. Nothing seemed out of the ordinary. And the milkman had no reason to raise an alarm during delivery around 1:15 a.m.
"I just keep trying to rethink, "How did it happen?" Mulholland asked.
Dark dreams
Mulholland and Stiles' children want a light left on at night now. The dim orange glow triggers a memory for Mulholland.
"I just keep thinking, "Where's the fire?' " Mulholland said.
"I am so full of fears at night. I always did have a lot of dreams, but now there are fires in them."
"I have dreams about black rooms," Stiles said.
A mix of soot and smoke permeated nearly all corners and contents of the home. Eerie outlines remain on the walls. Socks in a drawer, a ukulele on the wall and a camera on a mantle left clear imprints, like the negative images on camera film.
With help from friends and neighbors, the couple have itemized their belongings and sorted what they wish to repair or reclaim. The list of losses fills a thick binder.
Much what they owned will go to a local landfill: plastic toys, some 700 paperbacks and 100 cookbooks, the kayak Stiles made from wood and fiberglass, the microscope Mulholland used to look at puddle water with her daughter and the 25 pints of pesto the family planned to give to friends and neighbors for Christmas.
"It's just really depressing to go through your belongings wearing a respirator in a flat black room," Stiles said. "It really gets to you."
Cataloging the losses and estimating their worth is a tedious chore, probably the worst part of the process, the couple said. Insurance representatives have advised it may take a year.
The two have learned much about fire recovery. Ozone treatments intended to remove smoke odors from clothing also degrade the elastic in the apparel. Natural fibers are difficult to cleanse of odors, but 20 Mule Team Borax, a laundry detergent booster, can get results.
They also learned about the generosity of neighbors who opened their doors to them, fed them, hosted them and purchased clothing and medicine for them. The neighbors made changes in their own homes, too. One bought a ladder to use in an emergency. Others moved grills off their porches.
The couple also learned that city firefighters did more than attack the fire from the front core of the home and the back corners of the lot. They put family pictures face down on the dining room table and covered them with a tarp. They moved other pictures away from the home office and some of the most intense flames and smoke.
"I thanked them," Mulholland said. That's part of the job, firefighters told her.
"I would've never known that," she said.
Mulholland and Stiles hope to begin a new chapter in the recovery of their home.
It's the part about the phoenix rising from the ashes, Stiles said.
Stiles, the executive director of an environmental non-profit group, Wetlands Watch, and Mulholland, an associate professor in the Department of Ocean, Earth and Atmospheric Sciences at Old Dominion University, want to get on with the demolition and rebuilding. They think ahead to when their 1916 home will have insulation and energy-saving features.
"You just want to get back in your house and have life be the way it was before," Mulholland said.
Before a spark flew.
Jeanne Mooney, (757) 446-2043,
jeanne.mooney@pilotonline.com
source
the period(.) at the end of the URL is needed
http://hamptonroads.com/2008/01/one-nig ... me-regrets
.
Hampton Roads, VA